INTRODUCTION:
Katerina Bratsou
14/09/1992, Tripolis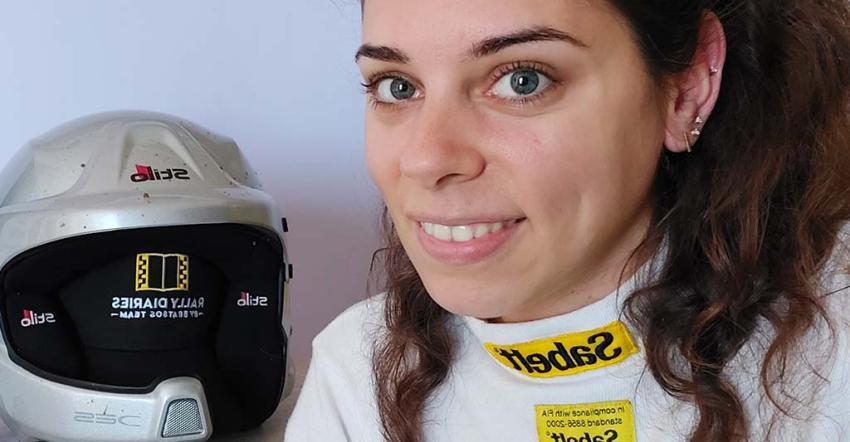 KATERINA BRATSOU
A LONG STORY SHORT (KIND OF)
Katherine was born in Tripolis. She is active in her everyday life. In summers, she used to spend most of her time in her father's garage where she became familiar with car diagnostic checks and repair procedures. As the family car was a Peugeot 205, she could not but love the speed and soon enough there was the desire to be in the field of motorsport.
During her studies at university, she could not be just a spectator, but she wanted to be a part of it. So, she began participate voluntarily in organizing teams in almost every field (hillclimbs, rallies and more). Nevertheless, in every opportunity she loves to be around classic cars where she enjoys the sound of these 'legends'. After her barchelor degree, she decided not to buy a new conventional car, but to proceed with the reconstruction of the family car with the full contribution of her father in the whole process.
As an active volunteer in motorsport, she had the opportunity to participate in the European Rally Championship (FIA ERC) both in Greece and Cyprus. The continuous attendance of seminars is an integral part, contributing to her development. She is also a member of the organizing team for the tests held in Greece for the WRC Teams.
Her first steps in racing was made soon enough. In 2018, she participated selectively in regularity rallies, with a special moment 1st place in F category with a Ford Anglia Super. In 2019, the participation in Classic Regularity Rally SISA (Acropolis) with an authentic Austin Mini Cooper S brings the 1st place in F category up to 1600cc and 11th place in Greneral Classification.
In 2018, the common dream with her brother of racing, resulted in the creation of RallyDiaries. In 2019, after lot of team work, they appeared in races with a Peugeot 205 GTi. The participation on two races in that year helped to get acquainted with the racing car.
In addition, Katerina deals with the presence of RallyDiaries on social media. In her free time, she enjoys roadtrips, travelling and she always seek to create new opportunities and open up her horizons.