The race date that everyone is looking forward to every year is 1-3 June 2018. Of course, I am referring to EKO Rally Acropolis - ERC!
For 2018, the race is the third round of European Rally Championship (ERC) and Greek Rally Championship as well as the first round for Historic Greek Rally Championship. Race took place in Central Greece, based in Lamia. The difference this year, is the start at Acropolis Sacred Rock and special super stage at Markopoulos Hippodrome.​
Follow us on Social Media Facebook, Instagram, TikTok, YouTube & Twitter to be informed about our motorsport activities.
Special super stage? I remember being in one of them at Acropolis Rally, WRC, 2007 as a spectator. But this time I will be a breath of all this! This special stage is the very first special stage of this race. The central area of Hippodrome was shaped accordingly and there was a stage of 2,60 kilometers, in a way that at the same time, cars in parallel could launch, creating expectations for a spectacular sight!
​
Indeed, the big day has arrived. As a member of organization, I am with the rest of the team early on, waiting for the crews to arrive. Everything is ready, but there is stress so that the whole process goes smoothly. At the start line, while co driver gives the route card, it is obvious the stress of the contestants. Eyes pinned to the countdown clock and... take off! There is the first taste of dust. As crews are almost ready to get into the next special stage, we depart from Hippodrome with a smile, ready to recharge our strength for the following days of the race.
​
The following days find me on the start of special stages. It is a fact, by the time of the second pass of the same special stage and after a regrouping, you can see the "fatigue" of the crews, but also the courage, the endless persistence and the will to finish. It is a big accomplishment to finish such a race!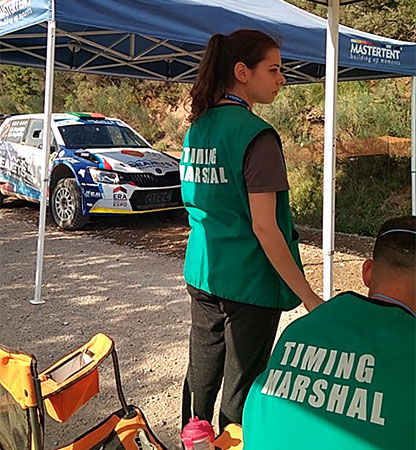 ​
And while the finish of EKO Rally Acropolis - ERC 2018 has arrived, the next few days have the memories of this race with photos and videos all over social media. But, this time is the first time that the end of a race does not mean waiting long for the next race, at least for me...