The newly established motorsport club A.L.M.A. Tripoli after its approval by the Greek Motorsport Federation organized the first motorsport meetup in Tripoli. A three-day motorsport event in Tripoli at Areos Square where visitors could admire racing, historic and civilian race cars as well as racing bikes, karts and 4x4 cars of the city.
People flooded the square on all three days from various regions of Arcadia and beyond. We prepared on Friday afternoon with our tent, car and other facilities for the visitors.
Follow us on Social Media Facebook, Instagram, TikTok, YouTube & Twitter to be informed about our motorsport activities.
​
We thought to give visitors a strong motorsport experience.
Apart from the car, we thought about taking it a step further. Visitors had the opportunity to get into our race car and put on the seat belts. We also had a mannequin dressed in the equipment we use for racing. So everyone had a chance to see up close and learn about safety in car racing.
​
Something else original was the simulation equipment in our tent. Young and old alike experienced the simulation of racing up close, driving a race car.
It was an unforgettable three days for everyone. Tripoli has a lot of motorsport fans. The first motorsport meetup gave us the opportunity to show the world the potential and how strong motorsport is for the city.
We want to thank Κyklos - Nikolaos Kandiloros for providing the mannequin and the internet cafe Inspot Tripolis for providing the simulation rig.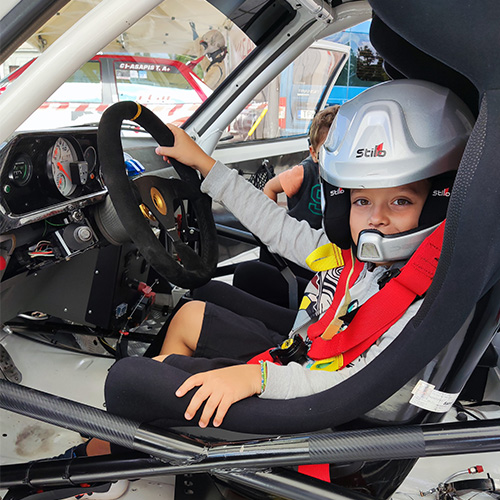 ​
We hope that the A.L.M.A. Tripolis will continue do events like this and the city will embrace and help develop the motor sport that saves lives!
Till next time!