The history of classic cars which represent an ideology and a glamor of another decades is undisputable. I always loved vintage things. But I did not expect that classic cars will keep me so interested in, as sporting cars are my passion.
Having already participated in regularity rallies, I received an interesting proposal which my mind was telling "you should do this! It worths". Of course, I am referring to a race that lasts a whole week. It is the longer race in terms of mileage and distance. The suggesstion of being in charge of relationship with contestants was not something indifferent for me.
Follow us on Social Media Facebook, Instagram, TikTok, YouTube & Twitter to be informed about our motorsport activities.
My first bet was to be able to be at the race, as I had to take some days off at work and leave my college obligations behind, too. Fortunately, I prepared my little suitcase, feeling more like going on vacation rather than be in a race.
​
The total distance of the race is 1.140 kilometers and consists of five legs (one each day). The route includes cultural sites such as Ancient Olympia, the Temple of Apollo, Mystras, Monemvasia, Epidaurus. The start line was on Ancient Olympia and finish line at the port of Nafplio.
The briefing of competitors has taken place. But what came up after that for me was a big surprise. I was asked to be as a co-driver of navigator. I knew it was a big task, as we had to start earlier every day, check the route, place time marshals and so on. I got stressed as I had not read again a roadbook by that time, but team was full of good vibes and that it would be a good race.
​
On the first day of the race, knowing only the basics about roadbook, odometer etc, the navigator decided to change positions, leaving me drive the car. He knew better the process and he wanted to be able to coordinate more staff. I had no reason to object as I enjoy driving!
The end of first day in Kalamata found us smiling and eager to start the second day, as we would cross Aeropoli Diros (with the beautiful Diros Caves) and end up in Gerolimenas, near the southern point of mainland Greece, a breath away from Cape Tainaro. The end of that day was characterized by a pleasant atmosphere, as crews and members of organization were enchanted by the landscapes.
The highlight of the race was the third day as we visited Mystras and overnighted in Monemvasia, one of the most beautiful places in Peloponnese.​ Crews from abroad were really amazed.
Next day and the competition was hitted up. Route from Monemvasia to Nafplio brought crews and vehicles to the limits of endurance! There are demanding parts and keep the average hourly speed is tough. Inspite, cars have already covered more than 700 kilometers and this does not happen often.
With a glimpse of an eye, and we are on the last day of Tour du Péloponnèse near Nafplio. The leg was including Mycenae and Epidaurus and finish line in Nafplio. The award ceremony was scheduled early that evening.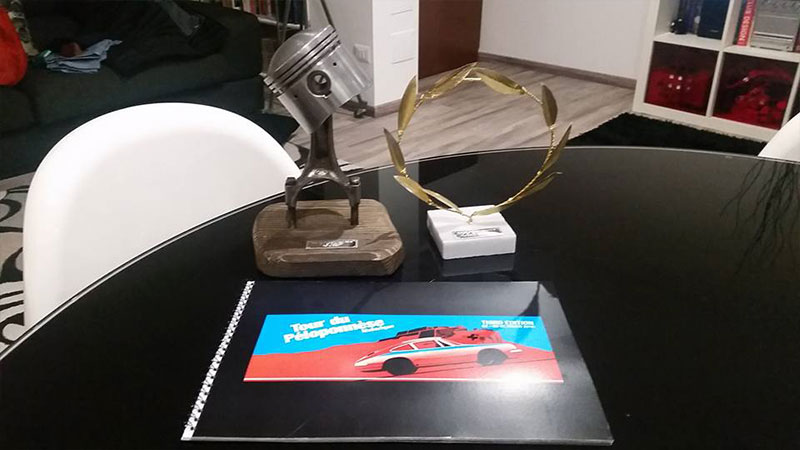 ​
So, back to ordinary life, I consider myself lucky to be part of this event. My answer when i was asked "did you manage to rest in your days-off" was "I fully recharged my batteris" in contrary with the fatigue that a race has.
In coclusion, I feel and I surely wish Tour du Péloponnèse attract more classic car lovers, cross the borders and more persons live this experience.