After two years working on the Peugeot 205 GTi we are back in action. The extented period of pandemic Covid-19 helped us upgrade our car and bring it on the level of our dreams!
Peugeot 205 GTi has already enrolled in races and more important it has finished on all of them. Without doubt our mechanic has done a great job on the car. The problem with the gearbox started early though and we understood that the time for an upgrade is close.
Follow us on Social Media Facebook, Instagram, TikTok, YouTube & Twitter to be informed about our motorsport activities.
So we took the decision to improve the car's gearbox. We decided to change the gearbox with a more reliable one that will help the car operate in any condition or type or race.
We chose Sadev STC-CS30233 5-gear sequential gearbox of Citroen C2 R2.
The choice of a sequential gearbox is not as easy as it looks like. If you want to be on budget you must consider everything, fitting the gearbox, safety measures for the car and the engine. On our Peugeot 205 GTi it was not an easy job.
Before fitting the gearbox our mechanic managed to organise and prepare everything for a clean job! We think that our engine bay is the cleanest by far.
Open Track Day by Hellenic Time Trial Challenge (HTTC)
There are not many track days scheduled its year. When there is a track day the HTTC team is the first name to consider as an organiser. It was our first track day that we participated some years ago and we cannot forget how much welcoming and helpful people they are.
So after summer they announced their first autumn track day. We prepared our car and went at Megara Racing circuit to test it.
​
The car was so vivid. We heard new sounds from the gearbox and in general it was a whole new experience. Now, changing gear is much faster, the car can turn easily and maintain it's course. We tested and tried to push it. Everything went perfect!
But it was time to share our track day experience with our friends that came for their first time!
DiRT Hellenic community... Not just a gaming group
We met our friends playing DiRT Rally. DiRT Hellenic community is a group of simracers that play rally/racing games and enjoy sharing their adventures and having fun. After many years the community evolved and many friendships were created among its members.
Our friends came to the track day to see our car and share some motorsport moments.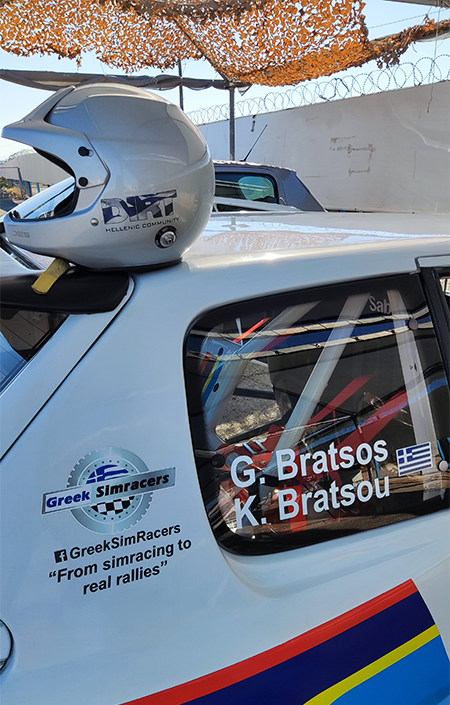 ​
Katerina and I shared our way of living and breathing for motorsport and we hope in the future to have many of you on track or at any race.
Below you can watch our in-car videos. Enjoy!