After the anouncement of the 2nd season of F1aXion's GT3 championship i decided to participate and get more experience on track racing. After my 1st season and the collection of all type of experiences i took my decision to race again.
Many changes were made on this year's championship. Bigger grid, 2h endurance races, races with reverse grid and championsip for both teams and drivers. Deciding this year's car was difficult. This year i decided to play safe and choose a car along with my rally friends who chose a BMW Z4 GT3.
Follow us on Social Media Facebook, Instagram, TikTok, YouTube & Twitter to be informed about our motorsport activities.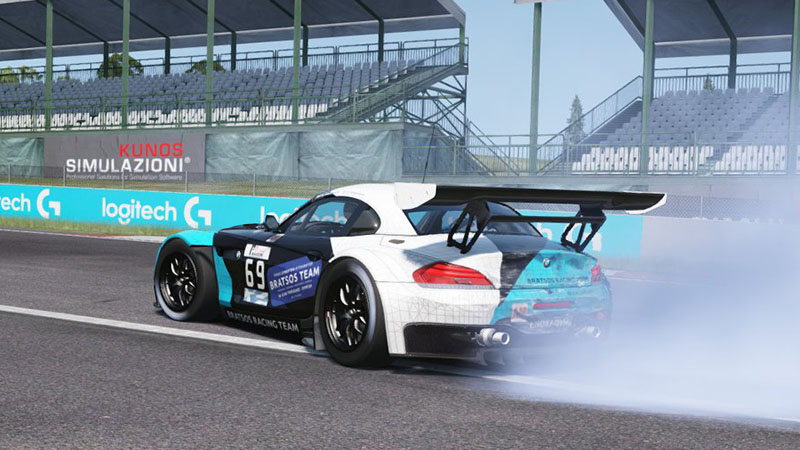 ​
In order to create a team 2 drivers are required. With my teammate Giannis Serdaris and test driver Nikos Papadopoulos we created Bratsos Racing Team! This year's calendar consists of 11 races. Bathurst (1 h), Road Atlanta (1 h), Red Bull Ring (40 m + 40 m reverse grid), Spa (1 h), Monza (1 h), Daytona (120 m), Mugello (1 h), Paul Richard (1 h), Okayama (40 m + 40 m reverse grid), Watkins Glen (1 h) και Nordschleife (90 m).
This year goal was to bring the car home and finish among the first 15 drivers of the 32 drivers, having clear battles. Our team's moto was 'Work, work, work'.
Most of the tracks were new to me so i had to work twice. At Bathurst i managed to finish at 20th position. At Road Atlanta after huge battles i managed to finish 20th. At Red Bull Ring i finished 13th on thirst race and 15th on the second race. Spa was good for me i managed to finish 11th while at Monza i had some troubles and finished 21st.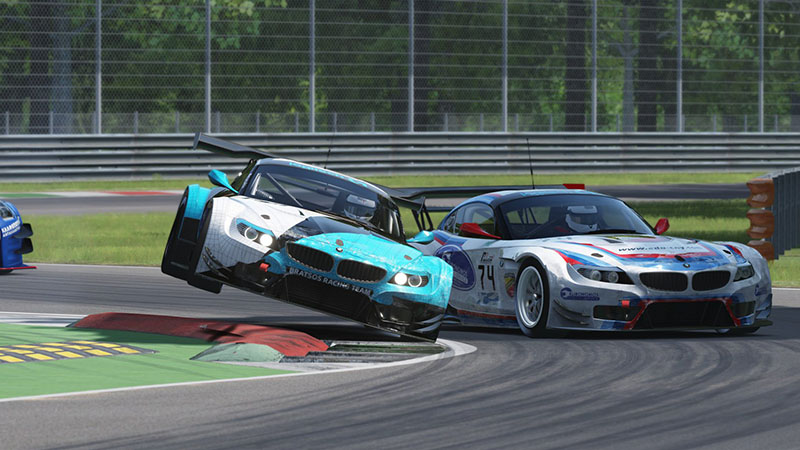 ​
Reaching on the 1st 1ο endurance race of the year, i prepared better than any race and i managed to finish 4th losing me 3rd place on the last lap by my own mistake. At Mugello i finished 14th while in Paul Richard 16th. On the 2 races at Okayama i finised at 14th and 12th position. Watkins Glen was hard and i finised at 20 position, while on the last race of 90 minutes at Nordschleife i finised on 12 position.
Championship Results
Final results are BMW 5th of 8 constructors. WayTooFast Racing Team 8th and Bratsos Racing Team 11th out of 16 teams.
The results of 44 drivers whoo raced on this championship, 6 drivers of our team finished:
1) George Bratsos (Bratsos Racing Team) 13 position
2) Takis Skaltsas (WayTooFast Racing Team) 14 position
3) Vaggelis Klironomos (WayTooFast Racing Team) 16 position
4) Giannis Serdaris (Bratsos Racing Team) 20 position
5) Panagiotis Kirkos (WayTooFast Racing Team Reserve Driver) 30 position
6) Nikos Papadopoulos (Bratsos Racing Team Reserve Driver) 43 position
Tiredness, joy, pleasure and satisfaction!
My 2nd run in a championship simracing championship made me a better driver and put me deeper into the mindset of the track race. After each match I was left with a smile and a satisfaction for my progress in the championship but also in tackling the race. For me, the top races without calculating my performance were Bathurst, Daytona, Nordschleife, Okayama. The season rolled with lots of work on every track, epic battles and very personal driving improvement.
I am looking forward to the announcement of the championship next year. The truth is, the level is high enough, the requirements are exponentially higher, "practice" takes more and more time and dedication and it's something that finds me out of rallies and their mentality.
Watch all live broadcasts at F1aXionTV on YouTube!
Δείτε φωτογραφίες και video από τους αγώνες του πρωταθλήματος εδώ.