The most beloved race of the year was held in Dimitsana with many drivers being there. It's true that Dimitsana hillclimb is a small motorsport fest, an escape for the weekend to relax in the green mountains of Arcadia.
We didn't participate in this year's race because we are preparing and upgrading our car. We decided to participate as volunteer marshalls and help the organization. This chance was given to us by A.L.M.A. Tripolis who communicated with the organization of the race and accepted this kind offer.
Follow us on Social Media Facebook, Instagram, TikTok, YouTube & Twitter to be informed about our motorsport activities.
Katerina came from Athens to take a break. For me, it was the first time to be a safety marshall. After the morning briefing and taking our equipment (flag, fire extinguisher) I went on K7 of the race.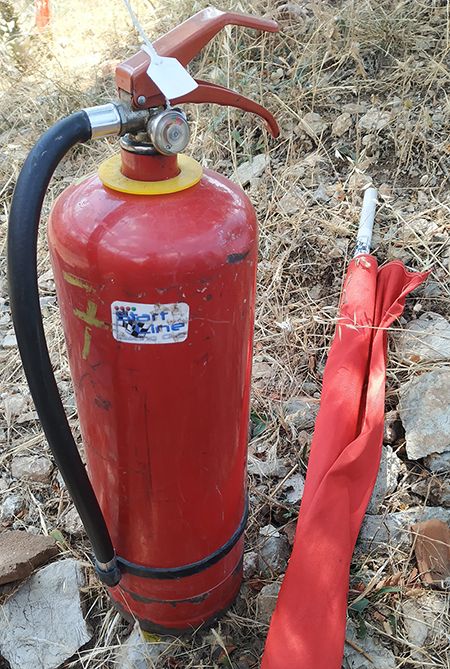 ​
The K7 of the hillclimb is one of the longest marshall positions to cover. It's the long uphill which leads to the turn under the big rock. It has lots of left and right fast turns and two to three marshalls are needed to watch that part of the hillclimb.
​
The safety marshall is responsible about crowd's position, the road condition and to be in alert if he/she is needed to help at an issue on another turn. In this race, I understood that patience and responsibility is required. The crowd is unpredictable, they went here and there even on the mountain, near the road and some spectators came the last minute and wanted to park on the safety park that we use in case of a car's malfunction.

The good part is that everything went great, everyone cooperated, the race was mostly clean without issues both days.
I believe that the safety marshall experience in a race is a plus for a driver's experience. A driver knows about the flags, marshalls etc, but he must know and have the experience of a safety marshall's obligations so that he can have a thorough opinion if asked about an event he had or the race conditions.
My opinion and proposition is that drivers must do some races as safety marshalls in order to experience this side of the race. I'm so glad that I did and I will do it again in the future. Being a volunteer in combination with motorsport is important for the sport and the feeling of giving makes you feel different!