It is still summer and our thoughts are on vacation, but and for the next events of motorsport calendar. No doubt, we wait EKO Rally Acropolis to take place in September. Next thought, a track day as we want to drive our car Peugeot 205 GTi after the new set-up, but what else? A race abroad, maybe.
There is rally race in our neightbour country. I have hold off on organising that trip four years now. This year, I always discuss about this trip with George and friends. At the end of summer, the decision was taken. We go to Rally Legend!
Follow us on Social Media Facebook, Instagram, TikTok, YouTube & Twitter to be informed about our motorsport activities.
The whole trip was organized by George along with Panagiotis Papadatos. Panagiotis is also passionate for motorsport and preparing his rally car.
In a moment of thought, I realized that from the F1 Grand Prix Night Race in Singapore, I will travel to Italy, too. Just magic! On calendar is Friday 14 October and we are in Bologna's airport heading to San Marino in a car.
​
We did a small stop in Circuit of Imola. The feeling in the entrance is intense as you can see the monument and the graffiti. After two hours we reached Rimini, the place we would stay for the next days. A power nap and ready to go to Rally Legend Village.
​
The location of service park is in and out of a stadium. The number of competitors is huge in comparison to the races in Greece. We started walking around to see these legendary cars. People of all ages were around. We kept the pace up to see as many we could see, as we wanted to find our spot for the night stage. It's almost sunset and we made it!
There was a right hairpin. Too crowded but who cares! After some minutes the first rally car approaches and people go mad! The flash of photographs, the fireworks, smoke all arround. All this lasted more than 2 hours. After 12:00 midnight, we were a little exhausted and we decided to leave the place and go to eat.. pizza!
​
The first special stage of Saturday was starting at 14:00. So, we had the chance to rest. Special stages are really close to each other so you could move to see more than one. There were spots for spectators in the official site, so it was really easy! Both days we were overwhelmed with passion, vivid moments, sound of legendary cars working at their best. Last day's special stage was full of adrenaline. Donuts, overtaking, smoke, smell of burnt tires.
​
As a whole experience, it seems like a well-spend weekend. I totally recommend it to new spectators or spectators with families. It feels like a big rally festival and it gives the opportunity to see a beautiful city. Just take the chance!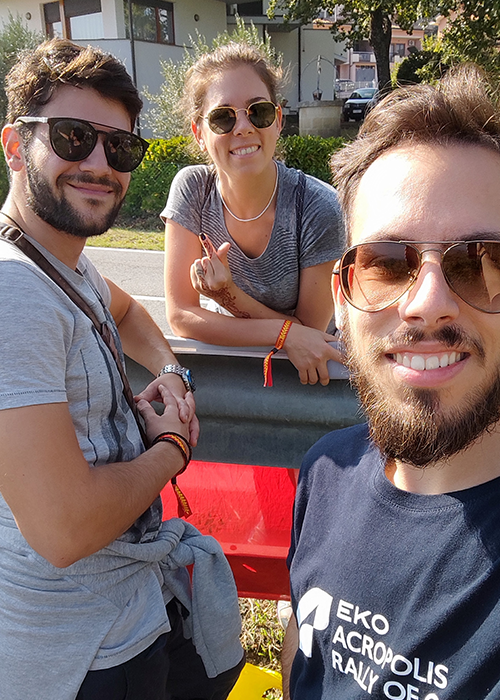 ​