It's been a while that I keep myself occupied by playing DiRT Rally 2.0 for practicing our team's communication in a rallycar and Assetto Corsa Competizione, the latest racing simulation game.
Assetto Corsa Competizione is the second game of Kunos Simulazioni, which simulates the SRO Championship (both sprint and endurance races) featuring lazer scanned all circuits of the championship and the car physics based on real data from the teams. It's one of the top simracing software that someone would love to obtain these days.
Follow us on Social Media Facebook, Instagram, TikTok, YouTube & Twitter to be informed about our motorsport activities.
Racing Spirit Team
Playing this game gave me 'up and downs' like most racing games. As I evolved through racing, I decided to create a racing team with friends which races around Greek and foreign events. This is how our Discord Server was created and you are more than welcome to join and share your passion about simracing and motorsport with us.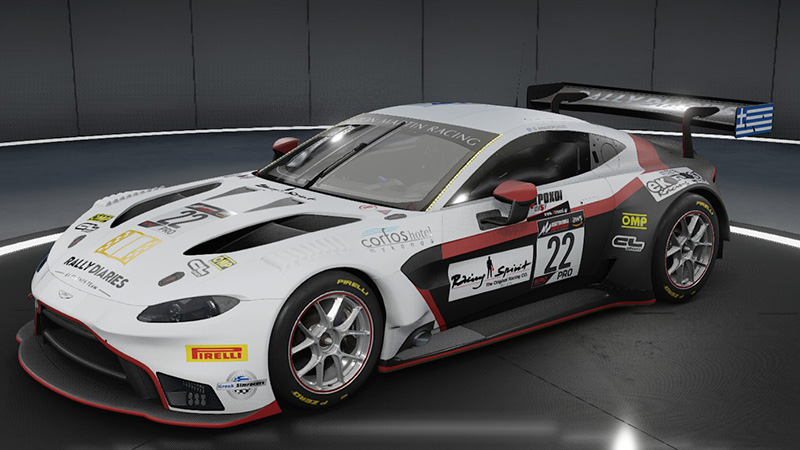 ​
Racing Spirit Team - Dimitris Amaxopoulos
Racing Spirit Team is the team that will participate at SOP GT Challenge World Sprint series which is based on SimGrid platform. The team's car is an Aston Martin Vantage V8 GT3.
​
Racing Spirit Team - Chris Andriakopoulos
The team consists of George Bratsos, Dimitris Amaxopoulos and Chris Andriakopoulos. Our team is supported by Ekinisi Racing Spirit, 4Troxoi magazine and Corfos hotel in Mykonos.
Races
The championship consists of 7 races on different circuits with different race duraction.
Kyalami - 75min | 12 May
Imola - 60min | 19 May
Suzuka - 90min | 26 May
SPA Francochamps - 100min | 2 June
Laguna Seca - 80min | 9 June
Silverstone - 90min | 16 June
Bathurst - 60min | 23 June
The races start at 21:30 and I will be broadcasting LIVE from our YouTube channel. SUBSCRIBE to our channel and click the bell in order to get all the notifications about new videos too.