Codemasters collected all the feedback from DiRT Rally, and did a refresh for DiRT series with a new title called DiRT 4.
DiRT 4 respects both simracers and arcade racers, giving the choice of difficulty to everyone. Simulation mode has lots of aspects from DiRT Rally with improved physics and car weight feeling.
Follow us on Social Media Facebook, Instagram, TikTok, YouTube & Twitter to be informed about our motorsport activities.
It's a challenge for everyone to driver from wheel users to controller users. In both modes traction control and abs are available. A catchy move was the inclussion of Rally Academy and the return of Nicky Grist as a codriver which reminds the successful Colin Mc Rae Rally games series.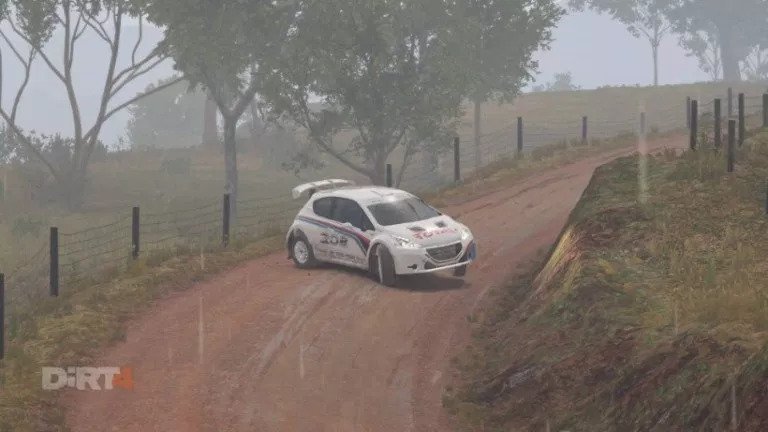 ​
DiRT 4 offers all types of off-road driving. The well-known rally mode, Rallycross an upcoming sport of FIA where codemasters has the copyrights, the american Landrush with buggies and trucks of three different kinds make DiRT 4 one of the most complete games.
In Rally mode, the user has a wealth of cars to choose from. Codemasters incorporated the DiRT Rally car categories but added new categories to modern as well as historic cars including Peugeot 208 R5, Hyundai i20 R5, historic Peugeot 205 GTi GroupA, Opel Ascona 400 and more.
At Rallycross there are a few options. With the FIA rights granted to the DiRT 4, driver will find all the Rallycross beasts, from the mythical Group B generation to the modern racing cars.
At Landrush driver will find 3 different categories of buggy which are very demanding to drive but also a category with trucks whose driving and track racing will be unforgettable!
​
All cars have their own unique way of driving, as in real life. They are affected by changes in type of gravel and weather conditions. Grip is more on the point as well as on the DiRT Rally and seems to be more forgiving of the mistakes but breaking the right time is needed. The settings at Service Park will satisfy even the most demanding and at the same time help the newcomer. Default setups are fine to begin with, though we would recommend reducing the brake force. For the most experienced, will be thrilled by Scandinavian flicks as well as brake / left-foot mounting. The sound, the cameras and the damage model are something that Codemasters has improved.
​
Career mode is interesting too. Player starts building his own team, choosing colors, name, sponsors, team members, mechanics, marketeers and co-driver. Team mentality grows when you race, you can hire new people, find new sponsors and compete with difficult challenges. Collecting creadits(Cr. = credits) you can upgrade your facilities, rent or buy a new car or upgrade your existing cars.
DiRT 4 also has influences from the older DiRT games. The Joyride mode where the user enters an industrial space where you can try your Gymkhana like stunts. There are challenges where you have to break some bricks or slide around bulldozers, trucks and containers and of course share what you do with your friends.
​
We do not hide that we all wanted Rally Academy in the DiRT series. From the newest simracers to the most experienced, Rally School was a feature everyone loved and lacked in games. Titles used to include Rally School was Richard Burns Rally and Colin Mc Rae 1! Codemasters did not fully integrate it into DiRT Rally but saved it for DiRT 4. In conjunction with the real DirtFish Rally School in Washington, DC DiRT 4 has perhaps the most detailed driving course for all modes describing, rules and teaches the user how to drive each car, but also how to deal with the various conditions that he will encounter in a race. (Video from DiRT Academy available at the end of the article)
Besides typical characteristics we mention for DiRT 4, there are also many innovations. Codemasters heard everyone from the community and for the first time they created cross-platform Leaderboards, Multiplayer & Competitive mode but the also the famous My Stage. Let's see My stage in specifics. DiRT 4 lacks of different rally stages from around the world but My stage My Stage comes to fill that gap. My Stage is an algorithmic stage generator where the user from two sliders decides the complexity and how long will be that stage. This increases the interest in driving an unknown stage especially with your friends in multiplayer. Also the user can save his stage creation and share it through steam, psn, xbox live with everyone else.
​
On cross-platform leaderboards drivers are on the same classification and you can filter by controller or wheel driver. You can check your friends' times on stages that play with the same type of handling mode too(simulation or arcade).
Το Competitive mode είναι για τους οδηγούς που θέλουν να ξεχωρίσουν στην παγκόσμια κοινότητα. Ξεκινώντας από Division 3 Tier 6, ο χρήστης ανεβαίνει στην κατάταξη κερδίζοντας πόντους από αγώνες με άλλους χρήστες της ίδιας κατηγορίας που τρέχουν κάθε φορά όλοι με το ίδιο αυτοκίνητο σε μία τυχαία ειδική διαδρομή που έχει αναπαράγει το παιχνίδι.
There is no local multiplayer in Multiplayer mode but you can play with your friends online!
Summarizing DiRT 4…
It's not DiRT Rally 2.0 as most people anticipated. It's something different, that keeps you entertained and mathches all kinds of racing. We suggest the game to everyone who want to enter the racing games universe and hope they will not forget their experience playing the game alone or with their friends.
We must mention the DiRT Hellenic community where you will find people with passion about racing games and willing to help you with any problem you may face. Last but not lease, you can get informed about all the racing games news and events or participate to our championship.
Facebook Group: facebook.com/groups/dirthelleniccommunity
We tested the game with Thrustmaster T300RS Alcantara. We want to thank Enarxis Dynamic Media for sending the game for review.
All photos come from members of DiRT Hellenic community.