Four months have passed since our first race at DiRT Park. After four months we put on our helmet and racing gear in order to return tou our beloved Speedcar XTREM.
Our crosscar suffered an engine failure in June and it's not resolved yet but our team managed to get us on track using another crosscar which was given by Speedcar Greece for this race. Huge thank you to Speedcar Greece for trusting us.
Follow us on Social Media Facebook, Instagram, TikTok, YouTube & Twitter to be informed about our motorsport activities.
We have been at Diadromio 7 years ago driving a Ford Sierra of Roustemis Motorsport. The memories form that time woke up! Full throttle, flat out driving and fast turns! A proper super stage!
This time Diadromio has changed. The track is wider and we are lucky to run on the new part of the track. The weather was bad all weeek but on weekend we had no rain so the track was dry.
Become our partner in motorsport and benefit your business through our activities in motorsport.
Download and read our online guide for our team's sponsorship program.
On Saturday there was held a track day for the race participants only. We saw our Speedcar XTREM and we got into our 'racing zone'.
​
We started slow trying to learn the track and get used to our little devil, our Speedcar. Everyone around us with positive energy and with a smile tried to help us improve our driving. Useful were the information from the champion mr. Zymaridis who answered all our questions we want to thank him so much.
Our progress on Saturday was good. We learnt a huge part of the track and we enjoyed our driving. We also experienced damp gravel conditions which was fun to drive!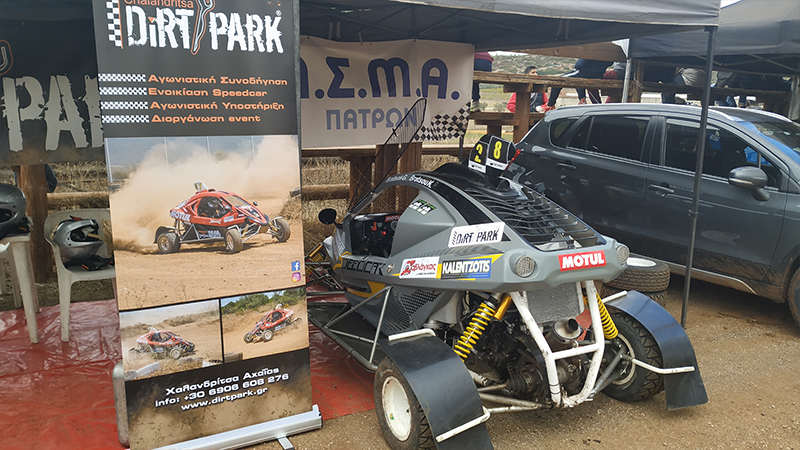 ​
On Saturday the track was dry. We did some testing in order to remember the track and get used to the grip.
The race started immediately after our tests. We had to do 1 lap for 4 times at Diadromio. Four laps was enough to get us excited and enjoy driving our Speedcar XTREM. Katerina did 4 good laps and George did 2 good laps and 2 with drifts and power slides! It was fun!
​
A big 'Thank You' to our supporters, our sponsors and for our team who was there to deal with any matter that came up!
Team: DiRT Park
Sponsors:
One more race on gravel and to be specific from wet gravel to dry helped us improve our driving and get more driving experience and understand the road grip situation better!
For all of you that ask about our Peugeot 205 GTi:
The car is getting some upgrades for the next year from Bratsos Team.
Stay tuned because the next year is the year that we are getting back to our goal!
Next race is at Iaveris Park in Malakasa!