The racing year started with our first participation at Pititsa hillclimb 2023. After 3 weeks, the next race incalendar is Tsakona hillclimb 2023. With great joy and impatience I was looking forward to race days. I had participated at Tsakona hillclimb when it was held for the first time in 2019.
Back in 2019, the sunny Sunday of the race was unforgettable as the Tsakona hillclimb is a very fast and technical route with good road surface quality and has everything that makes a driver want to participate.
Follow us on Social Media Facebook, Instagram, TikTok, YouTube & Twitter to be informed about our motorsport activities.
The preparation started the previous weekend. The necessary checks and preparations were made on the car. We went to do a reconnaissance of the route even though the weather was rainy. The weather all week was cold and rainy. On Friday before the race it didn't rain but there was humidity and clouds. Tsakona hillclimb 2023 would be another race with different than usual conditions.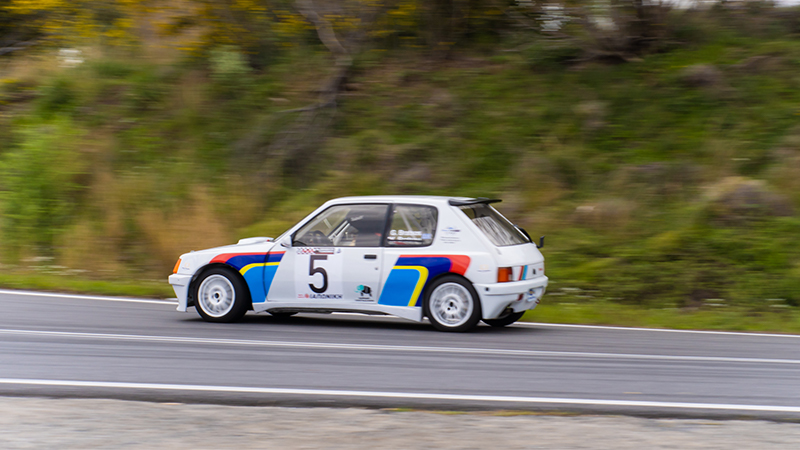 ​
The race weekend arrived with plenty of clouds, cold but no rain. In Saturday's practice on the first pass I tried my "black round Pirelli" DM tyres on the first pass but couldn't get them to work. So again, I used the set of NanKang AR-1 that I used on Pititsa hillclimb. A bit of testing for the right pressures in the next two passes and we had a good base for Sunday's race.
On Sunday, which was the day of the race, the weather was the same as the day before. The truth is that I started very cautiously and on the first pass I was not very happy with my performance. On the second pass of the day, I tried to push harder by misjudging in two curves, losing valuable time but improving my time from the first pass.
This weekend was special though. I participated in the race for the first time with Sakis Kaloudis from Patras with his Peugeot 205. We had a nice race, exchanged views and experiences. Two 30+ year olds with same old cars!
​
I leave Tsakona hillclimb with mixed racing feelings. I need more testing time to get more familiar with the car. Thanks so much each of you for being this weekend on the mountain!
Till next time!!